PCOS Diet: The definitive guide to reduce insulin resistance and restore your fertility with a healthy and balanced diet to restructure your hormonal structure and defeat the polycystic ovary

- Rebeca Adams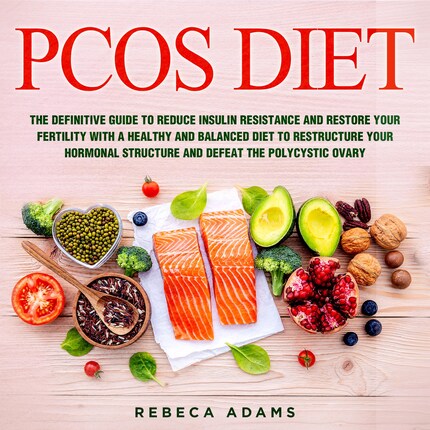 Overzicht
If you have tried everything imaginable, but have never been able to reverse your PCOS and activate the natural healing power of your body, then this could be one of the most important books you have read in recent years.
Are you interested in knowing the best way to find relief from your PCOS symptoms, lose weight, heal your body, and regain confidence using a healthy diet?
"PCOS Diet Plan" is written to show you how you can naturally reverse the devastating effects PCOS on your health using a balanced diet. This step-by-step PCOS diet cookbook reveals how women from all walks of life can easily overcome their insulin resistance, enhance their fertility, and lead more satisfying lives regardless of how long they've had PCOS.
Hundreds of science-backed studies have proved that a proper PCOS diet can greatly reduce the symptoms and put the health of women with PCOS back on the right track. However, as more people are adopting the lifestyle and seeking the right PCOS nutrition, there's a lot of really wrong information or misinformation out there.
Packed full of proven tips and strategies from a qualified nutritionist, this PCOS diet plan playbook takes you through everything from picking the best foods to eat and the ones to avoid to thriving with an insulin resistance diet and repairing your metabolism.
Here is a preview of what you will discover inside this book:
- What to eat and what to avoid with a practical meal plan as you navigate your way to better health
- What polycystic ovarian syndrome is, its symptoms and how to diagnose it accurately
- How to repair and restore your metabolism naturally
- Game-changing strategies to lose weight and enhance your fertility so you can feel feminine again
- Delicious recipes designed to meet your unique PCOS needs with detailed cooking instructions
- And much more…
Scroll up and click the "Buy Now" button to get this entire book right now!
© Author's Republic (Luisterboek)