Good night! The Time-Tested Sleep-Hypnosis-Program To Assure Perfect Sleep
Hypnosis Application
- Cheryl Heusser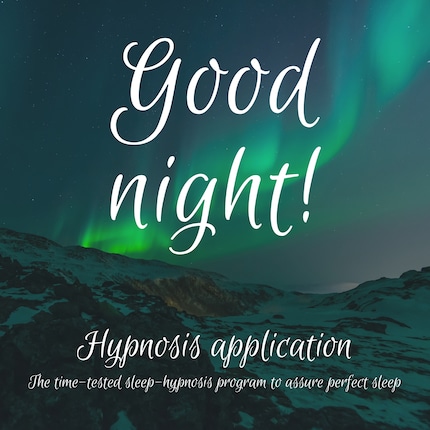 Samenvatting van het boek
Sleeping problems usually arise when we are unable to relax our mind and body. If everyday problems and worries are making it hard to switch off, hypnosis and self-hypnosis can help you achieve sustained relaxation of the mind and body. Hypnosis is an excellent way of anchoring decisive impulses in your mind that lead you to peaceful sleep. This method ensures such peaceful and healthy sleep by 'programming' your thoughts in a targeted and sustainable way. Internal disturbances fade and your natural sleep cycles are restored, allowing you to fall asleep easily.

If you want to improve your own health and wellbeing, you will find self-hypnosis to be an extremely valuable tool. This technique can help you not only overcome problems and worries, but also achieve positive change in all other areas of your life.

The most self-explanatory applications for home use include all currently known mental techniques that are essential for successful sleep harmonization. The hypnosis techniques developed by hypnosis specialist Cheryl Heusser for falling and staying asleep have a lasting impact, as they cleverly circumnavigate your critical thought processes.

During the sessions, you will access subliminal information that will help you establish healthy new habits and belief systems.

***WHAT YOU GET

Practical Hypnosis I: Fail-safe techniques for falling asleep (2 versions: with & without soothing music)
Practical Hypnosis II: Fail-safe techniques for staying asleep (2 versions: with & without soothing music)

***HOW IT WORKS

The techniques covered are:

•deep hypnosis,
•autosuggestion,
•multisensory programming, and
•delta wave audio processing.

Use one of these techniques for at least 21 consecutive days to achieve the best possible results. Follow these instructions, and you will find that no power in the world will be able to stop you from achieving a deep and peaceful sleep.
© 2020 Lynen Media (Luisterboek)