For Once in My Life
- Colleen Coleman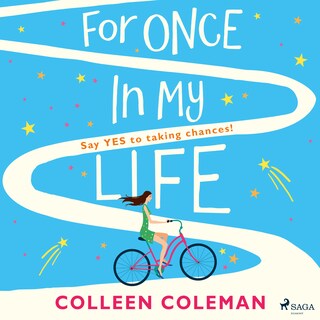 Overzicht
Twenty-nine-year-old Lily Buckley planned to be happily married and in her dream job by now. Instead, she's been single since being left at the altar three years ago, and works at her local paper, writing stories about giant vegetables at the village fete and a dog who looks exactly like Chewbacca.

Not quite what she was dreaming of.

So when Lily's allowed to write her own column it's exactly what she's always wanted – except there's a catch. She has to do one thing every week that scares her then write about it.

With encouragement from a sexy colleague – and adrenaline-junkie – Christopher, Lily agrees. From sky-diving to haunted houses, Lily is going to be pushed to her limit. And since heartbreak has left her afraid of falling in love again, her growing feelings for Christopher might be the thing to push her past it.

But then her mum has a crisis, and Lily's column is the only thing keeping her – and her colleagues' – jobs afloat, and then Christopher's ex arrives with her sights set on a romantic reunion.

Suddenly jumping out of a plane is the least of Lily's problems... Can she save her family, her friends, and her heart – or will she let her fears hold her back?

An uplifting, feel-good story about friendship, romance, and finding the hero inside yourself. Fans of Marian Keyes, Mhairi McFarlane and Sophie Kinsella will love Colleen Coleman!

What readers are saying about For Once in My Life:

'Love, love, love this book... I absolutely adored it and devoured it in one sitting... So bloody funny. It will make you laugh until your belly hurts... It is beyond awesome, I freaking loved it.' Chelle's Book Reviews, 5 stars

'OMG I loved it! It's brilliant!!!... Hilariously relatable... Move over Beyoncé... Love the sass!' The Writing Garnet, 5 stars

'A five-star read that will make you get your bucket list written... The end blew me away... A fantastic read and one of my favourites by this author... This is definitely one of those reads you need in your life.' Goodreads reviewer, 5 stars

'Laugh out loud... The perfect chick-lit book.' Pink and Dizzy

'A wonderful read... The attraction between them was very real feeling... Fabulous humour... Perfect... A wonderful, fun-filled story.' Jeannie Zelos, 5 stars

'So enjoyable to read... One of my favourites of the year. A lot of what Lily said really resonated with me and made me really think!' The Cosiest Corner, 5 stars

'Romantic, fun... An enjoyable and easy read.' The Suspended Step

Over 56,000 copies sold. With Bookouture, Colleen's titles have sold almost 300,000 copies.

For fans of Marian Keyes, Mhairi McFarlane and Sophie Kinsella

Colleen Coleman is an Irish-Canadian novelist. She is the winner of the much-coveted Novelicious Undiscovered People's Choice Award launched to find the next 'chick-lit star'. She spent over ten years working as a teacher of English and Philosophy before finally taking a deep breath, scrunching her eyes shut, putting her pen to paper and vowing not to lift it again until she wrote the words The End. As a result, her first novel was born. Colleen lives between London, Ireland and Cyprus with her very patient husband and very, very chatty twin daughters.
© Saga Egmont (Luisterboek)